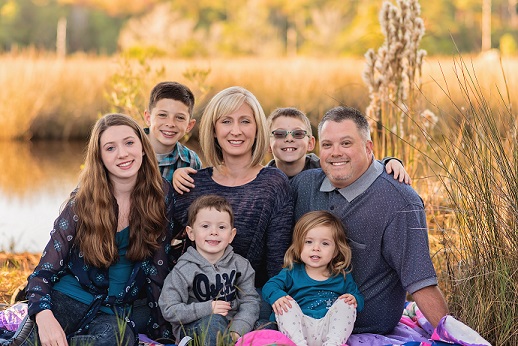 Amanda Adds…..
I would like to share with you a little history about Angelic Fetal Imaging.  In 2011 I started this business while pregnant with my fourth baby and while working night shift as a Labor and Delivery nurse.  I had no idea how to start a business.  I just obeyed His calling, took a huge step of faith, and walked through the doors He opened.  Now it wasn't always that easy.  There were trials and tribulations but through it all I did not take my eyes off Him.  My secret to business success is that I prayed for God to give me wisdom like Solomon to run this business with character and integrity giving all the glory to Him.  You may have heard about my "batting average."  I prayed for a keen eye to see what others may not be able to see in order to provide a great experience for each and every one of my clients.  For those of you who have already chosen Angelic Fetal Imaging thank you for allowing me to be a better wife and mother to now 5 beautiful children.  Without you I would not have made it this far.  Please continue to spread your testimony to others.  To those of you doing your ultrasound studio research now, I am praying that your decision will bring you to my front door.  I can't wait to share this experience with you!
Belinda's Blog…..
My journey to Angelic Fetal Imaging is one only God knew!  In 2013 I retired from the Marine Corps and with a Bachelors degree in hand I was ready to face civilian life head on.  It wasn't until I had applied for over one hundred jobs, ranging from State and County work to cleaning out pens for a local animal shelter, that I realized God had other plans.  It was at that moment that I stopped looking and began enjoying my time to be, just, a wife and mom.  In May 2015, with God's divine hand, Amanda and I were reconnected not only as neighbors, but as wonderful friends!  In June of 2015 I began this amazing journey with Angelic Fetal Imaging and I couldn't be more grateful.  God knew my heart all along.  The biggest blessing in this job, while there are many, is the opportunity to be a part of something so very special.  Each family that walks through our doors has their own unique story and they have chosen us to help build on that story.  So, thank you to all who have already been here and continue to pass our name along. To those of you who are searching for that special place to call your ultrasound home, we would love to be a small part of your extended family!

So many of you asked "Do you do photography here as well?"  Well now we do!  Jennifer Shaw with Cotton Wood Photography (formally known as Unforgettable Photography) has made herself available to come to YOU at Angelic Fetal Imaging in order to give you a great package at a great price for your time-sensitive newborn photos.  Just bring us the baby and we will do the rest!